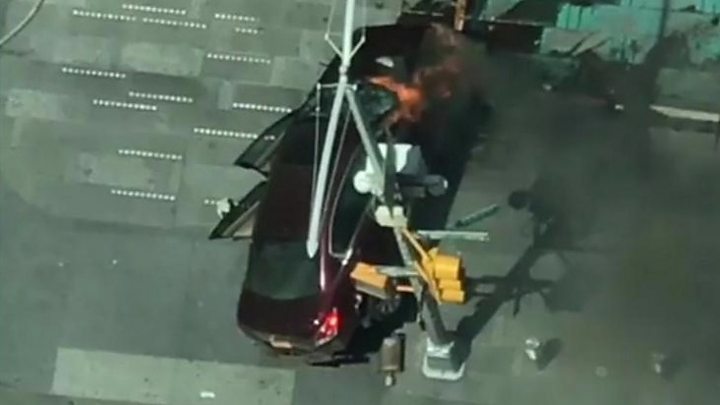 One woman is dead and 23 others injured after a car sped on to a pavement in New York City's Times Square, the fire department says.
The 26-year-old driver, a former US armed services member and US citizen, is in custody.
"There is no indication that this was an act of terrorism," said New York Mayor Bill De Blasio.
The red Honda jumped the kerb and travelled for three blocks before crashing.
Photos showed the sedan partially on its side on the pavement with smoke and flames spewing from the bonnet.
LIVE: Car runs into pedestrians in Times Square
In pictures: Times Square car crash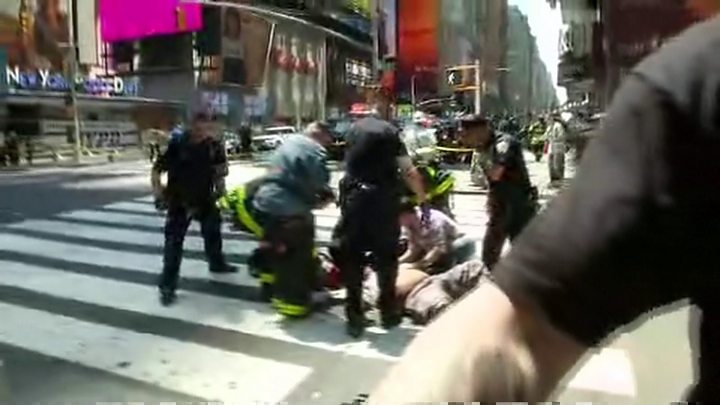 The crash follows recent deadly car-ramming attacks in London, Berlin and the French city of Nice.
The FBI is investigating the New York incident, but so far officials say there is no terror link.
NYPD said the suspect, Richard Rojas, is a Bronx resident who was arrested in 2008 and 2015 for drunk driving.
"It is believed to be an isolated incident, it remains under investigation," the New York Police Department said on Twitter.
The vehicle jumped the kerb at 45th Street and Broadway at 1155 local time (1655 GMT) and drove at high speed before crashing into a stanchion.
Photos from the scene showed casualties strewn across the walkway.
One person was covered with a white cloth.
Police said an 18-year-old woman died and her 13-year-old sister was among the injured.
One witness, Ed G Val, was across the street when he saw the car speeding north on the west sidewalk of 7th Avenue.
"A woman in front on the sidewalk was hit and tossed before then car reached 44th street [and] continued ploughing people down at full speed up to 45th street, where it was stopped after crashing into more people and the light posted pictured," he said in an Instagram post.
New York Governor Andrew Cuomo said in a statement the event was "nothing short of horrific".
White House Press Secretary Sean Spicer said President Donald Trump has also been informed about the incident.
Times Square was the target of an attempted attack in May 2010 when a Pakistani immigrant planted a car bomb at an intersection.
The device failed to detonate and he was arrested shortly after boarding a flight to the Middle East.
---
Did you witness what happened in Times Square? If it is safe to do so let us know about your experiences. Email haveyoursay@bbc.co.uk with your stories.
Please include a contact number if you are willing to speak to a BBC journalist. You can also contact us in the following ways: